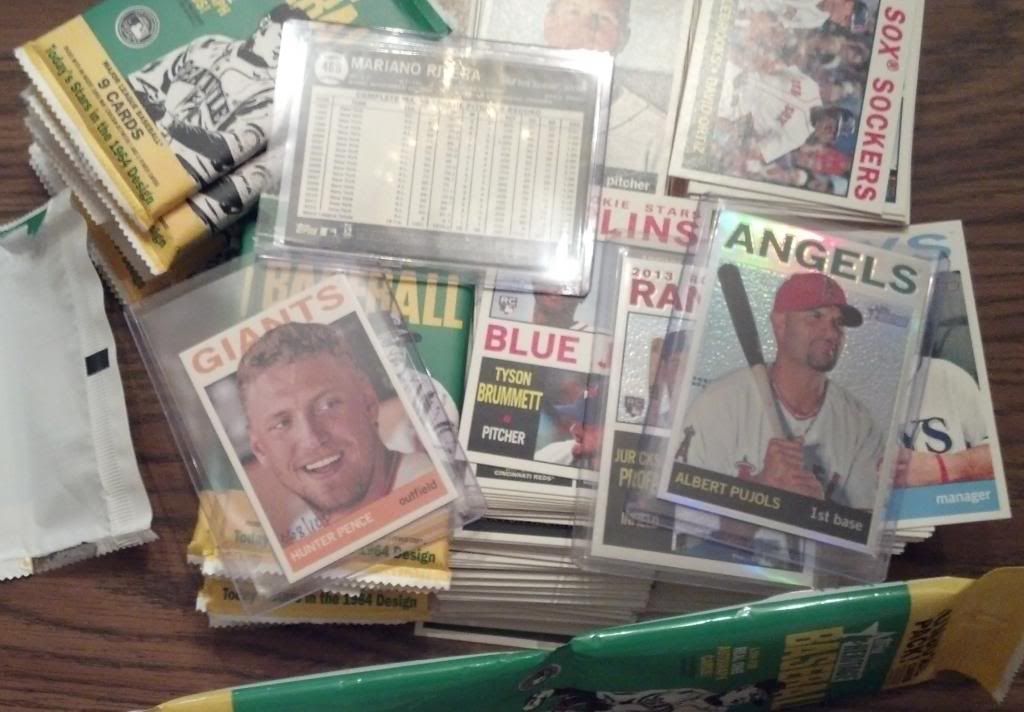 It is here folks! 2013 heritage has hit certain retail locations. I was able to find some at my local walmart. I hit two different locations and found the same number of packs and blasters. It looks like the initial allotment is one 24 single pack box, 6-8 blasters and maybe 15 rack packs. I purchased a few of each.
There is a lot to take in at first. Topps has increased the inserts and hits now. You will find a few of the staples of heritage, new age and flashbacks, but there are some new cards. I pulled a nice Hunter Pence mini. Topps has numbered these to only 100. The hand numbering adds to the value. I also pulled a black back card of Mariano Rivera, I think that this is a Venezuela parallel. These will be very hard to track down with these falling 1:47 packs and 1:21 rack packs. I pulled two game used cards, these look about the same and feature a home base window. Both my jersey cards were one color.
The base cards are once again really nice. The colors on the front are very vivid, perhaps too much as compared to the 1964 offering. The photos are ok, mostly portrait. There are action variations and those should really be apparent. It also looks like you can tell the inserts and SSPs by the code # on the back. Base cards had the # ending in 80. SP's were 81. I found the backs of the cards to be very nice. Sporting a pale orange color the print really pops. There is even a spot for the trivia rub, but of course there is no game....perhaps some will have a trivia rub variation?
Condition seems to be a big problem. Many of the cards were dinged. I must say that I am amazed that any of the cards are mint after the rough journey from topps to the stores in those huge boxes. The racks are just thrown in and the blaster packs are now stuffed into smaller boxes. I can report that SRP is down from last year. 2.98 for single backs and 5.98 for racks. The rack packs seem to be the best bargain. Autograph odds are only 1:120 in the rack packs. I found a few blue fronts, these seem to be walmart exclusives. I did pull a few chromes and a few refractors. The chromes are bland, but the refractors really are nice. My two bigger hits were a Profar RC refractor and a Pujols refractor. Both numbered to 564. Chromes fall 1:24 packs and 1:11 racks, with refractors falling 1:42 packs and 1:19 racks. Blacks will fall 1:368 packs or 1:166 racks. Good Luck hitting those, you will hit ink before you hit one of those!
If you have any specific questions please write them below. I will answer any question I can about retail. These should be hitting your walmart in the next few days. Good Luck!