2009 Topps Heritage is finally here, I am excited to say that it appears I am one of the first people to open it. I was able to get 6 boxes only, but I think that is enough to review it. Here we go!
First off these cards are amazing. They really have a lot of eye appeal this year. The bright colors of the 1960 set have been duplicated here very well. Many of the cards give you that 60's feel. Philly fans will be happy to know that there are several cards chronicling their world series run. There are also Tampa Rays cards, including one of them "kicking" the ball around the outfield! OUCH. Other sub sets include award winners, player combo cards, team coaches cards, managers and the very popular All Star cards.
It appears through my 6 box rip that cards #'s 426 and higher are short printed, they are also printed with a darker back, so there will be no mistaking short prints this year. Im sure there will be some other surprises too. Chrome cards were quite plentiful and refractors were one
per box. The black refractors are top notch.
If you are looking for value I am afraid you are looking in the wrong box. What topps lacks in value they make up for in the looks of the base set, but that doesn't provide bang for the buck. A 12-box case will not even guarentee you an autograph card. It appears that topps went with a much smaller checklist of ink this year. You are most likely going to pull 12 game used cards in a case of this product which is unheard of in todays market, but topps knows they can sell this on name alone. Also gone from the checklist are retired players game used cards. Only the much rarer dual relics have the big names in them. The entire game used checklist is comprised of a few stars and mostly semi stars.
Here is a breakdown of what I pulled from these 6 boxes. All 6 boxes were from the same case.
Dark Back Short Prints (expected: 48) Actual: 47
Chromes /1960 (expected: 24) Actual: 27
Refractors /560 (expected: 6) Actual: 6
Black Refractors /60 (expected: 0) Actual 1 D. Uggla
Blue Autographs (expected: 0) Actual: 0
Red Autographs (expected: 0) Actual 1 F. Carmona
Clubhouse Collection (expected: 6) Actual: 6 Buchholz,MaybinX2,Crawford,Podsednik, Baldelli
1960 Box Toppers (expected: 3) Actual: 2
Ad Panels (expected: 6) Actual: 6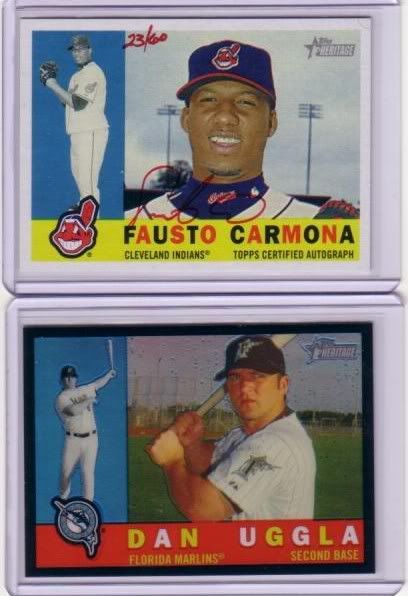 Stay tuned for much more information including possible surprises!